Obstructive Sleep Apnea Treatment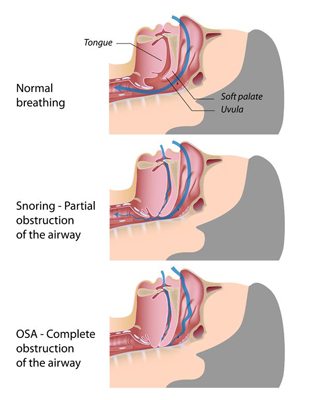 A Small, Simple alternative to CPAP!
Sleep apnea, also referred to as obstructive sleep apnea or OSA, causes a patient's breathing to intermittently stop while sleeping. It's also been proven to lead to a number of other serious health concerns, Depression, high blood pressure, diabetes, and stroke is also common health consequences.
OSA can be classified by the following symptoms:
Loud Snoring
Irritability
Excessive Daytime Sleepiness
Personality change
Poor Memory
Difficulty Concentrating
Excessive Nighttime Urination
Can OSA Be Treated?
Unfortunately OSA can sometimes go undiagnosed. The times when it is diagnosed, it is often ineffectively treated, if treated at all. As a certified specialist in sleep apnea treatment, Dr. Abrams can diagnose and offer effective treatment for this dangerous condition. Learn more…