Optimal dental health is about more than just caps, bridges, and fillings. Thanks to advancing dental technology, Dr. Abrams and Levittown Family Dental Associates can not only offer you and your family premium dental care, but they can also offer you a number of other services that not only enhance oral health, but can also improve your overall quality of life.
Toothprints® Child Identification
Dental imprints are like fingerprints: unique to each individual. A pediatric dentist invented Toothprints® to help find and identify children in the event they get lost or abducted. Dr. Abrams offers Toothprints® at no cost.
Learn more…
Under Armour Sports Mouth Guards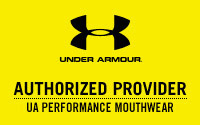 ArmourBite® (featuring patented Power Wedges™) utilizes the power of your jaw, to reduce impact and better protect yourself, allowing you to safely reach your full athletic potential.
This custom-made mouthpiece offers the same fit, flair and functionality the pros have in a short, painless, 20-minute process. A great fit for contact athletes playing sports like football, hockey and lacrosse.
OraVerse® Reverse the Numbness!
A numb mouth is a common side effect from a visit to the dentist's office. It can be extremely limiting, altering your speech, limping your smile, and foiling your ability to drink. And then there's the potential for drooling! Levittown Family Dental Associates now offers OraVerse® , a proven method to quicken the return of sensation back into the soft tissues of the mouth after routine care procedures.
CPAP-Free Snoring and Sleep Apnea Treatment
Dr. Abrams is an award-winning expert on treating snoring and obstructive sleep apnea (also known as OSA), both of which can cause severe health problems. He provides an alternative to uncomfortable CPAP machines, by offering a variety of custom-made oral appliance options to help you stop snoring, breathe easier and sleep better. Learn more…
We know your time is valuable. We have all of our new patient forms online and will work with you to get an appointment that fits your schedule.
Oral Cancer Screening: VELscope®

Although oral cancer – which affects the mouth and throat – only accounts for 2 to 4 percent of all cancers diagnosed annually in the United States, its death rate is staggering. Out of the 30,000 people diagnosed with oral cancer each year, and only 50 percent of those patients will live past 5 years. Late discovery is one of the primary reasons for such a high mortality rate.To offer better overall health to our patients, Levittown Family Dental Associates offers VELscope®, an early screening service to test for oral cancer. VELscope provides the dentist an opportunity to visualize, evaluate, and monitor potentially dangerous areas during their earliest stages. The test is simple and can be completed in approximately 3 minutes. Levittown Family Dental Associates is proud to provide our patients with this important service.
We know your time is valuable. We have all of our new patient forms online and will work with you to get an appointment that fits your schedule.